Bottle Beach Koh Phangan
Bottle Beach Koh Phangan is one of the most secluded beach on the island which is only accessible by long tail boat. Bottle Beach lies on the northern side of the island and is surrounded by steep rocky out crops and dense jungle. Haad Khuat has the finest and whitest sand on Koh Phangan and the paradise is topped off by palm tree fringe.
Visitor Information for Bottle Beach Koh Phangan
It is so easy to gently sway on the Palm swing and simple forget about going anywhere else, luckily there are 4 small resorts for those who wish not to leave the paradise which are located around the edge of the bay and just blend into the back ground jungle. The Haad Khuat is a popular destination as part of an organized long tail boat snorkeling tour of the area and usually take lunch in one of the small beach bars. These few visitors do not detract from the area as the beach is approximately 0.8km long so there is always plenty of sand.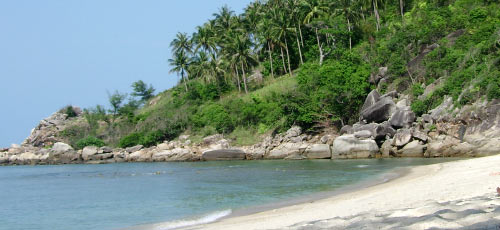 A beautiful beach on Koh Phangan
The tours only stay in Haad Khuat for a couple of hours before ferrying the tourists on to the next snorkeling destination. The sand of Bottle Beach apart from being extremely fine extends into the sea and is perfect for snorkeling and swimming. In part due to the limited tourism there is an abundance of sea life within close proximity of the shore line.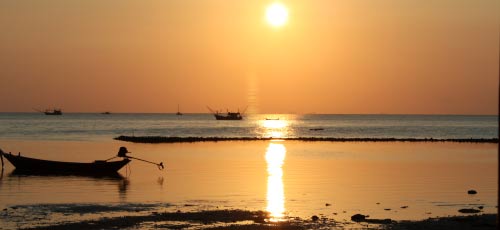 A beautiful sunset over Koh Phangan
Bottle Beach Koh Phangan Hikes
For the more adventurous there is a tough climb and walk to the top of a large rock which over looks the bay, the route is signed but is tough and the ground slippery. The views at the top of the rock are reward enough for the tough climb and indicate the isolation of the very small resort which is completely surrounded by jungle. The four resort are very unimaginative called Bottle Beach 1, Bottle Beach 2, Bottle Beach 3 and, unsurprisingly, Bottle Beach 4. There are no budget options due to the seclusion and prices start around 1000THB.