Bhagsu Waterfall, McLeod Ganj
Bhagsu Waterfall, McLeod Ganj makes for a pleasant half day excursion for visitors who are based in McLeod Ganj. The pretty waterfall and crystal clear waters are less than 3km from McLeod Ganj and this makes for a scenic short hike. The river has cut a deep valley through the steep hills, exposing massive boulders, through which the cold water races around on its journey down the mountain side.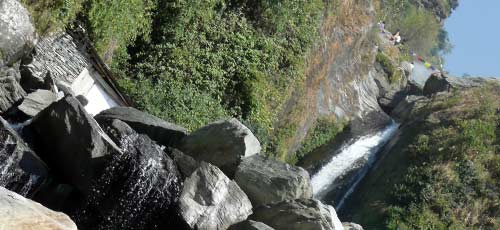 The Bhagsu Waterfall is a popular hiking route from McLeod Ganj
In the waters Buddhist monks come to wash their clothes and the whole area has peaceful and relaxed ambience. The short hike to Bhagsu Waterfall is an ideal activity during the first few days of a visit to McLeod Ganj.
Visitor Information for Bhagsu Waterfall, McLeod Ganj
The best time of the year to visit the waterfalls is soon after the monsoon rains as the river is feed by ground water and not snow melt. From November through to February the waters gush over the 10m cliff and form dramatic cascades while rushing downstream. During the dry and hot season, March through to June, expect a mere trickle which will surely disappoint.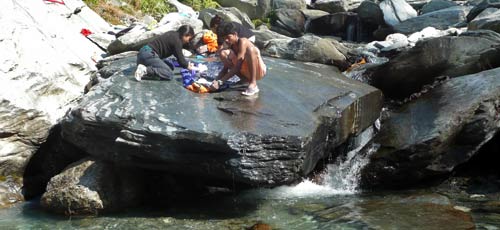 Washing in the crystal clear waters of the river
There are larger and more dramatic waterfalls in the world than Bhagsu Waterfalls but the waters are crystal clear and the scenery is beautiful. This relatively easy walk provides a definite goal and will hopefully entice visitors to attempt much longer and challenging walks in the mountains to the north of McLeod Ganj.
The Jaipur Hike to Bhagsu Waterfall
The Bhagsu Waterfall is approximately 2km from McLeod Ganj with the walk along the well signed footpath taking approximately 20 minutes. To reach Bhagsu follow the Bhagsu Road in an eastward direction out of McLeod Ganj. At the end of the first stage of the route the path passes through the small village of Bhagsu with it's important Temple complex. On the east side of Bhagsu village the path turns north along a substantial footpath on the left bank and leads directly to the waterfall.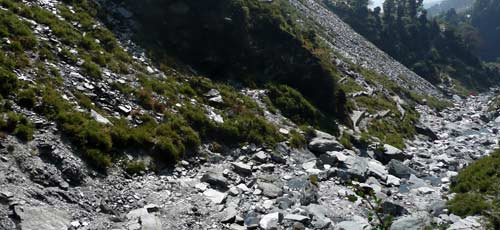 The river valley of the Bhagsu waterfalls
Before the river bank footpath stage visitors can climb down the small side of the river valley and follow the river up the valley to the Bhagsu Waterfall, this makes the visit substantially longer. This route negotiates large rocks which have been exposed by the monsoon rains and shallow pools of water. Here in these pools the water is mountain spring clean far from the distant polluted water of most Indian rivers. The water is much too shallow for bathing and even if it was few would want to spend long in the icy temperatures.