Mcleod Ganj Getting There and Transport Guide
McLeod Ganj is a popular tourist destination within northern India and is the exiled home of the Tibetan Buddhists. The town itself is positioned high in the Dhauladhar Mountain range approximately 300 miles (480 km) north of Delhi. This guide will provide an overview of the different methods of transport to travel to McLeod Ganj.
Travel to Mcleod Ganj and Overview
The first thing which should be stated is that McLeod Ganj has relatively poor public transport connections and significantly less than many other major Indian cities. The nearest airport to McLeod Ganj is Gaggal Airport, approximately 16km to the west and the nearest train station is in the city of Pathankot, 90km again to the west. Bus services tend to depart from the main bus station in Dharamsala 4km downhill while private taxis are by far the most expensive travel option.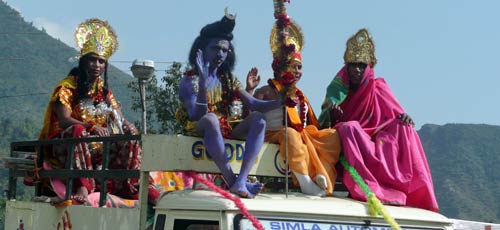 A religious festival in Dharamsala
Mcleod Ganj Flights and Airport
Gaggal airport is also referred as Kangra Airport or Dharamsala airport and has direct services to Delhi airport operated by Kingfisher airways. For more info about flight and the airport. The route used to have a very bad reputation with many short notice cancellations but since Kingfisher air bought out the low cost airline Air Deccan services and quality have improved.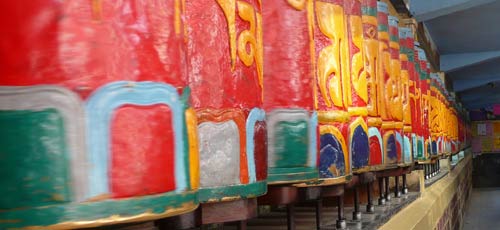 The colourful Namgyalma Stupa in McLeod Ganj
The airport is still susceptible to the extreme weather of the region, both during the monsoon rains and winter snows. The airport is not an international airport and international connection travel is not possible.
Mcleod Ganj Train Services
Train services to and from McLeod Ganj are very poor as there are few railways in the foothills of the Himalayas. The closest city with a major train station is Pathankot and this city is 90km to the west of McLeod Ganj with the journey taking a minimum of 1.5 hours by taxi and much longer by bus. Pathankot has two train stations and care must be taken when booking tickets on the Indian rail website.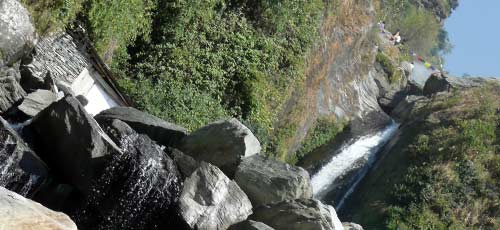 The Bhagsu Waterfall is a popular hiking route from McLeod Ganj
Mcleod Ganj Bus Services
Generally the option must travellers choose when travelling to and from McLeod Ganj is the road option. From Dharamsala bus station there are many regional routes and intercity routes, which extend as far as Delhi.
One of the common choices for on ward travel is to select the night buses to either Shimla, Mandi or Delhi. Some bus services even depart from the cramped bus area in McLeod Ganj and save a journey down hill. For more details about Mcleod Ganj bus services.