McLeod Ganj & Dharamsala Hotel Guide
Mcleod Ganj and Dharamsala are popular tourist destinations located in the Dhauladhar Mountains and the foothills of the Himalayas. This region is the home of the Tibetan Buddhist while in force exile and the atmosphere is like no other city in India. This guide will provide an overview of the accommodation found in Mcleod Ganj and Dharamsala along with useful tips and information.
McLeod Ganj or Dharamsala
Many tourist hotel and hostel booking websites lump Mcleod Ganj and Dharamsala incorrectly together as one destination. For the majority of visitors to the region would want to stay in Mcleodganj than Dharamsala, Mcleodganj is this the home of the Tibetan government in exile and has a much more backpacker vibe and atmosphere than Dharamsala.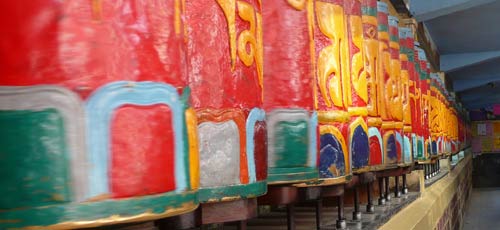 The colourful Namgyalma Stupa in McLeod Ganj
Visitors who book and stay in Dharamsala may feel slightly disappointed, and it is always possible to travel down the hill from Mcleodganj to Dharamsala. The two destinations on a map appear very close with a distance of less than 2 miles separating them but a map does not indicate the 500 meters difference and the 20 minute drive between both towns. If booking over the internet confirm the location of the hotel but it is just as easy to find a place to stay on arrival.
Mcleod Ganj Hotels and Accommodation
Mcleod Ganj was primary developed for the Tibetan Buddhists but the entrepreneurs of the town soon discovered that the home of an exiled spiritual leader would attract tourists and visitors. This has lead to the development of a good level of tourist infrastructure that includes plenty of budget and mid price hotel rooms. It is very unlikely that a visitor freshly arrived in Mcleodganj would struggle to find a bed to sleep in.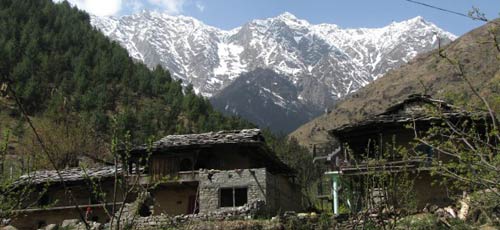 The stunning mountains close to McLeod Ganj
The town has only three main roads and it is very easy to walk between all of the hotel establishments checking prices and standards. As Mcleodganj is predominantly Tibetan Buddhists there is significantly less hassle from touts trying to push hotels and rooms as found in many other Indian cities. When viewing a room check to see that hot water is hot and the cleanliness standards of any shared facilities. It should be noted that Mcleodganj can get very cold at night during the winter months.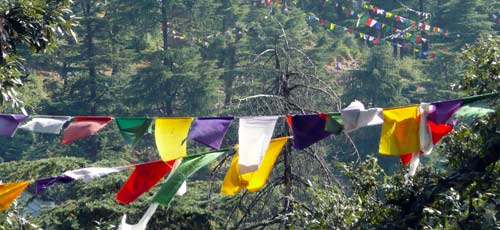 The pray flags in McLeod Ganj
If booking hotel rooms from the comfort of your home via the internet always check the exact location of the hotel as Dharamsala is not Mcleodganj. Always read reviews but consider that some could be written by either hotel staff or competitors - never base a choice on just one review. Also when reading reviews consider what your standards are, what may be dirty to one person may be acceptable (for the price) to another.