Triund Hill, Mcleod Ganj
Triund Hill lies within the Dhauladhar Mountain range close to the popular tourist destinations of McLeod Ganj and Dharamsala. The hike to the summit of Triund Hill follows a well-worn and adequately signed footpath and the distance from McLeod Ganj means that the return journey can be completed in a single day. This moderately challenging one day hike, which is only suitable for fit and health visitors, provides stunning scenery from Triund Hill and is a good introduction to mountain hiking.
Triund Hill Information
The route from McLeod Ganj to the summit of Triund Hill covers only 9 km but the change in elevation provides the difficulty. The summit of Triund Hill is 2,875m while the elevation of McLeod Ganj is 2,000m and Dharamsala is even lower at 1,500m. From the summit of Triund Hill there are amazing views over the craggy snow capped mountains of Dhauladhar to the north and rolling hills to plains in the south.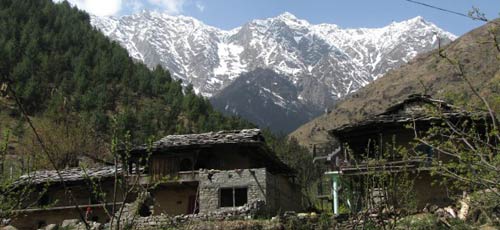 The stunning mountains close to McLeod Ganj
The hike to the summit of Triund Hill is highly recommend as it fits within a (long) day's hiking. The route is of moderate difficulty and involves climbing some steep roads and footpaths but is suitable for most fit visitors to McLeod Ganj. Never under estimate the hike to Triund Hill, the weather conditions in the mountains can change rapidly, with even snow storms possible in the summer months. Always take good walking shoes, warm clothes, spare water and food.
The Hike to Triund Hill - Sesimbra Route
The first stage of the walk is from McLeodganj to Shri Galu Devi follows a small road - so for those visitors pressed for time can completely skip this stage of the hike. Taxis cost approximately Rs 400-450 from McLeod Ganj to Shri Galu Devi which has an elevation of 2,150 meters. Galu temple is where four of the mountain paths/roads converge the paths lead down to; Dal Lake, Rawa Dharamkot and Bhagsunag. Shri Galu Devi temple is a sensible place to rest (and take lunch) as the reminder of the walk is along narrow footpaths.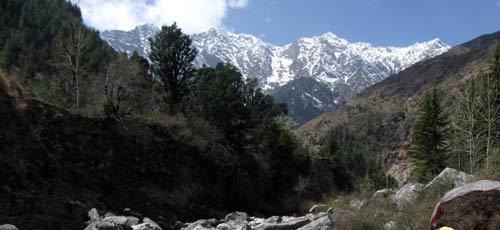 The snow covered peaks of the mountains can be hiked to
From Shri Galu Devi temple to the summit of Triund Hill takes a further 3 to 4 hours. There is a further refreshment stop at 2,500 meters and even a choice of two tea houses. The final stage is the toughest but the view from the top of the hill is certainly worth the effort. The northern view is dominated by the Dhauladhar range of mountains with the highest peak belonging to, mount Dhauladhar at 4,800 meters. Coming down the hill is always much quicker and visitors will be surprised how soon they are drinking a beer to refresh themselves!